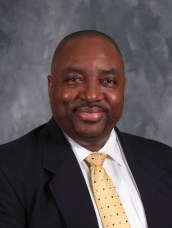 Leonard Greene
BOE Member
Leonard Greene has lived in Grandview for more than 20 years and has two children who've graduated from Grandview High School. Originally from Detroit, MI, Mr. Greene is a graduate of the University of Michigan, Ann Arbor. He is employed by the Federal Reserve Bank of Kansas City as a software developer. Mr. Greene served on the Board of Education from 2000 – 2006, and 2012 – present.
Joshua Hill
BOE Member
Joshua and his wife, Emily, moved into the Grandview School District in 2012. They have three adult children; they are currently hosting a Spanish exchange student that is attending Grandview High School. Mr. Hill is a business owner and is civically involved as the Chairman of the Sertoma Club of Kansas City and is a Deacon at his church. Mr. Hill received his Bachelor of Arts from American University in Washington DC and his Master of Arts from UMKC. He is the owner & founder of Pemberton Whiteman & Hill legal recruiting firm. Mr. Hill is very involved with a flag football league, and Royal Rangers, a Christian scouting organization. He was elected to the Grandview School Board in April 2022.


Kara Wardlow
BOE Member

Kara and her husband, Jeremy, moved to Grandview in 2008. They have two children, who attend Grandview Schools and Mr. Wardlow is also a teacher and coach with the district. Mrs. Wardlow received her Bachelor of Nursing from Missouri Southern State University in Joplin, MO. She currently works as a Cardiology training delivery team lead for General Electric Healthcare. Mrs. Wardlow is very involved with the school community and can be found at many activities, sporting events, and engagements throughout the district. She began her service on the Board of Education in April 2021.
Stacy Wright
BOE Member
Stacy Wright has been a resident of Grandview C4 School District for 20 years. While her four sons were enrolled, she was an active volunteer in the district. Stacy is an alumna of Cornell University, where she majored in Human Development and Family Studies. For 14 years, she owned and operated Pump It Up of Shawnee Mission. After retiring in 2019, she became a Court Appointed Special Advocate and continues serving children in need of care to this day.  Ms. Wright was appointed to the Board of Education in October 2021.